Coronavirus
Dear Palos 118 Families,
Today, Governor Pritzker mandated all schools remain closed through the end of April. The Illinois State Board of Education (ISBE) has declared that Remote Learning Days will begin for schools statewide on March 31 and continue until in-person instruction can resume. These will replace the previous Act of God Days, during which school districts were not required to provide instruction. I'm proud to say that Palos 118 began almost immediately providing online instructional activities to keep students engaged during Act of God Days.
The format in which Palos 118 has provided online instructional activities during Act of God Days meets most of the requirements for Remote Learning Days. So, what will change during Remote Learning Days? At the elementary schools, our current E Learning activities assumed students would have the ability to turn in work once school resumed. It is becoming increasingly apparent that school may not resume for the remainder of the school year. As we transition to remote learning, teachers will use technology tools to communicate directly with students, collect assignments, and provide feedback on completed work. Palos South teachers will continue to utilize Schoology to facilitate communication and engagement. Families without access to technology should contact their school principal.
The school district is committed to finding new ways to engage with students during Remote Learning Days and teachers and administrators will be meeting virtually on April 8 and April 9 to plan accordingly. Parents will receive additional information regarding the increased communication and engagement discussed above after the April 8 and April 9 planning days. As a reminder, April 10 was a previously scheduled non-attendance day. Please see the updated schedule below.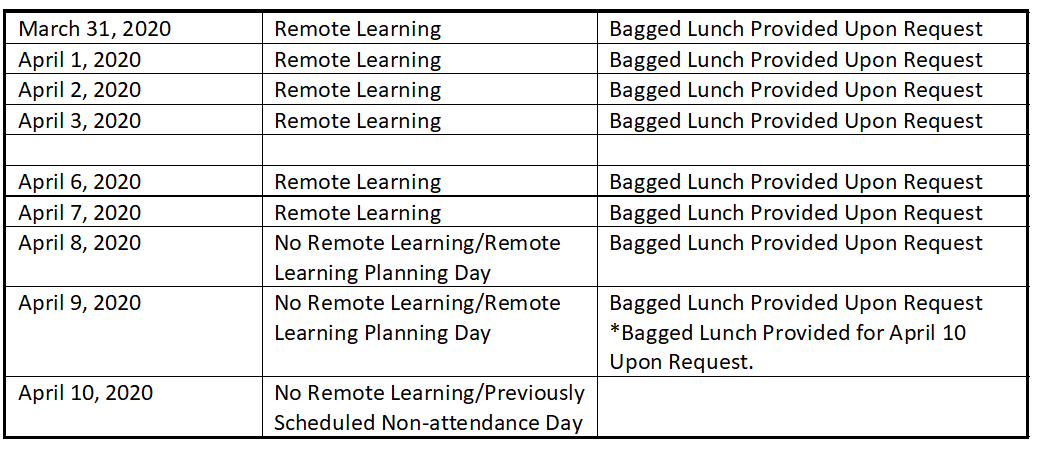 Elementary students should continue to access online instructional activities through our website and middle school students through their Schoology accounts during Remote Learning Days.
During this pandemic, Palos 118 does not want to create additional stress and undue burden for our families. We know this is a difficult time for everyone. Please be assured, no student's academic standing will be negatively impacted during Remote Learning Days. While it is our commitment to provide meaningful educational activities for students, it is up to parents to determine what is best for their children regarding completion of assignments and level of engagement. We highly encourage students to stay engaged by completing assignments and interacting with their teachers as much as possible.
I've spoken to my colleagues at high school districts and I understand their Remote Learning Day activities may look very different. High school students are more independent. At the elementary level, remote learning will never replace the education teachers can provide to students in our physical classrooms. In the weeks ahead, I understand parents will have very different expectations for what remote learning should look like considering their own family circumstances. I ask for your continued patience and partnership as we work together to provide engaging and relevant academic opportunities for all our students in a format never designed to educate elementary students for a prolonged period of time.
This is not the fourth quarter I envisioned for our students. My thoughts go out to our families as the mandated closure continues. By now, many of us probably know of a family member, loved one or friend whose health or economic security has been negatively impacted by current conditions. Palos 118 remains committed to supporting our families during these difficult times.
Stay well,
Dr. Anthony M. Scarsella
Superintendent of Schools